Časový program:
On behalf of the Council of the European Dragon Boat Federation (EDBF) and the Czech Dragon Boat Association (CzDBA) we warmly invite all National Dragon Boat Teams from European countries to participate in the 15th EDBF European Nations Championships (ENC) in Prague - Racice, Czech Rep.
The Championships will be organized on behalf of the EDBF by the Czech Dragon Boat Association and will be run at the at Czech National Olympic Water Sport Centre Labe Arena in Racice Czech Rep. Racing will take place over 6 racing lanes.
The Opening Ceremony is planned for Friday, 5th July 2024.
Racing Days will take place from Thursday 4th July through to Sunday, 7th July 2024 inclusive.
Please ensure your team arrives by 3rd July 2023 latest for meetings and training sessions.
Entries must be received by 31st January 2024.
Named Entries and Confirmed Racing Classes and Categories must be received by 4th May 2024.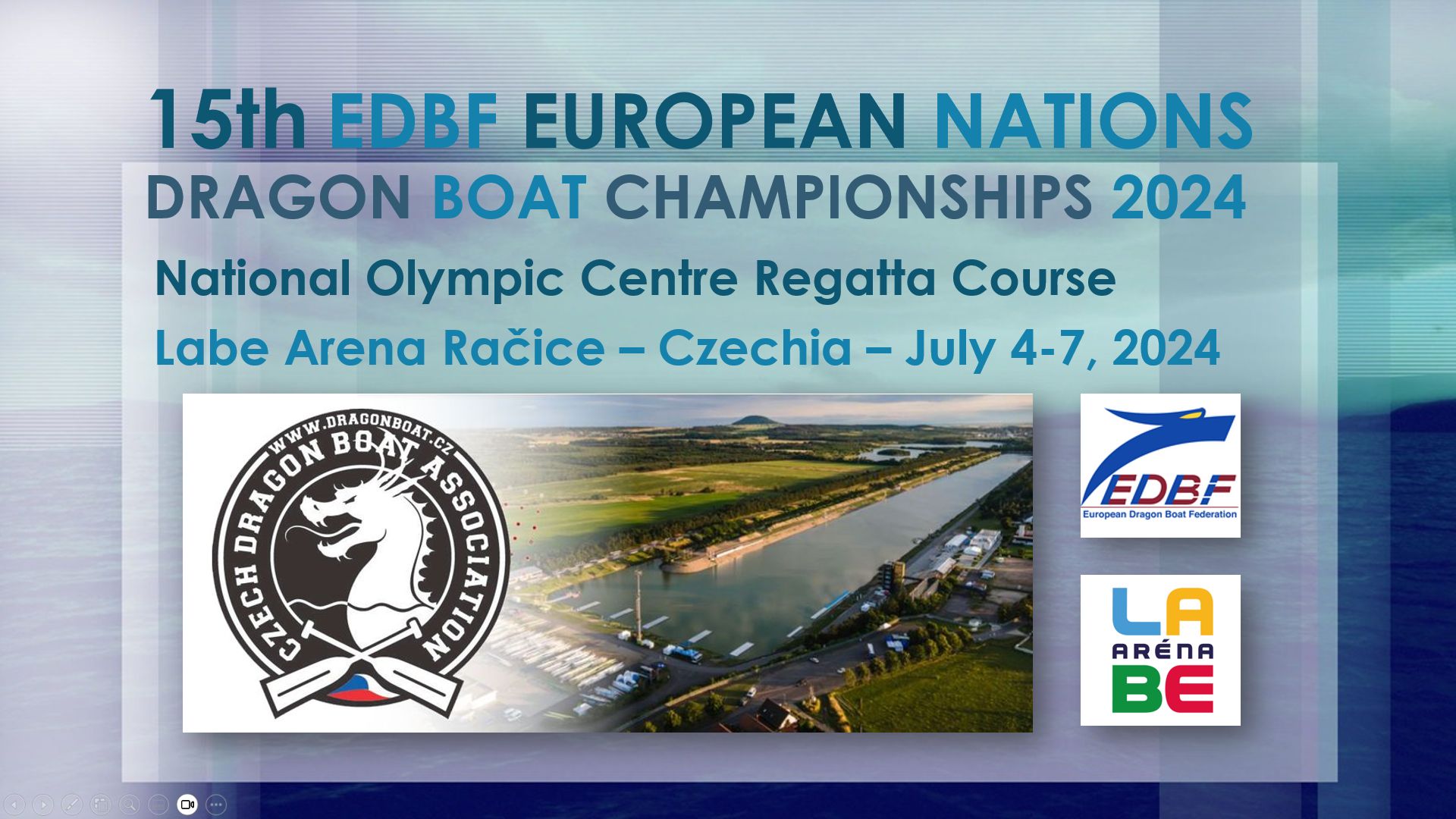 The 15th EDBF EUROPEAN NATIONS CHAMPIONSHIPS are open to all National Dragon Boat Teams in Europe in Membership of the EDBF.
Teams from European Countries not in EDBF membership may apply to the EDBF Executive Committee for permission to participate.
The ENC will comply with the IDBF Competition Regulations for European Championships and be conducted under IDBF Rules of Racing with EDBF Amendments as published on the EDBF web site under the documents page.
The ENC will consist in both IDBF Spec Standard and Small racing dragon boats of the following classes:
- Junior A, B / U24
- Premier
- Senior A, B, C, D
- Paradragon
INFORMATION BULLETIN NO. 1 containing technical, administrative and organisational details about the Championship is about to be distributed.